I've decided to sign up for a second challenge, next to the Erotica Romance Reading Challenge that I already joined. My fellow countrygirl
Pearl
is hosting the
Contemporary Romance Reading Challenge 2010
! I think it's a good alternation with the Erotica Challenge for me and I have a bunch of Blazes and other contemporary romances on my (digital) shelf! So this will be a perfect opportunity to make my TBR pile shrink a bit...
Here's what Pearl has to tell about her challenge: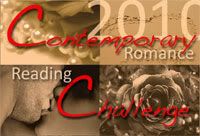 Before I list the details, I do want to make one thing clear: by contemporary romance I mean straight contemporary, so without paranormal, fantasy or time-travel elements. Sexy, steamy contemporaries are eligible and so are category romances. (i.e. Harlequin Blaze, Harlequin Presents, Harlequin Super Romances, Silhoutte Desires, etc.)

Details:
1. Read at least 10 contemporaries between January 1, 2010 and December 31, 2010

2. You don't have to pre-select your books, you can just add them as you go. Even if you list them now, you can change the list if needed. Nothing is set in stone! Also, the books you choose can crossover into or from other challenges you are participating in.

3. Feel free to grab the button below for the sidebar of your blog. It would be great if you would link it back to this post so others can find their way back to this post and join the challenge.

4. If you decide to join this challenge be sure to create a post telling others and feel free to add a link back to this post so others can join in the fun.

5. I will be creating review posts where you can link your own reviews, but reviews are optional.
My list

:
1.
Hard To Hold
(Hold trilogy, #1) by
Stephanie Tyler
,
Finished, 3 stars
2.
Racing Hearts
(A Calculated Risk\An Outside Chance\This Time Around) by
Vicki Lewis Thompson, Nancy Warren, Dorien Kelly
,
Finished, 2.5-3 stars
3.
Magnus
by
Jambrea Jo Jones
,
Finished, 3 stars
4.
Issue of Trust
by
Lorie O'Clare
,
Finished, 3.5 stars
5.
Tempted
by
Megan Hart
,
Finished, 3.5 stars
6.
Raising Kane
by
Lorelei James
,
Finished, 4 stars
7.
Bad Moon Rising
by
Leeanne Kenedy
,
Finished, 3.5 stars
8.
Corralled
by
Lorelei James
,
Finished, 4 stars
9.
Beyond Eden
by
Kele Moon
,
Finished, 4.5 stars
10.
L.A. Caveman
by
Christina Crooks
,
Finished, 3.5 stars
COMPLETED!!
10 / 10 books. 100% done! COMPLETED!
You can also check my list on my
Contemporary Challenge shelf
in my GoodReads library.