Today one week ago Leontine and I arrived in New Orleans and I can't believe how fast that week went by. We're here for GayRomLit (in case you didn't know yet) which will start tomorrow. We did a lot of fun stuff like meeting with Patti (@LovesFABromance) who lives here and took us to the largest Barnes & Noble in town. Isn't she wonderful? The romance section at B&N was heaven for us Dutch girls. I think Leontine actually drooled on more than one book *wink*. I admit I would've done the same if there had been a gay shelf. :)
But we actually discovered a small, stuffed and eclectic little bookstore just outside the French Quarter in Frenchmen street, that has a large collection of gay fiction, erotic drawings and gay porn magazines. Not that I looked at those of course...
Leontine and I also did some touristy things in this amazing city, like shopping at the River Walk, taking a carriage ride through French Quarter, going to the French Market, eating beignets at the famous Cafe du Monde, visiting some museums, eating Po Boys, riding the street car, visiting some lower Mississippi plantations or just sitting in the park and read.
Thanks to the lovely Chris from Stumbling over Chaos, who arrived last night and brought the right equipment to transfer my photo's to the ipad, here's a few photo's to give you an impression.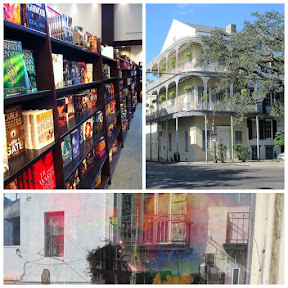 So, tomorrow GayRomLit finally starts and we'll be moving to the apartment with the rest of the girls, whom I all look very much forward to meeting. It's a pretty full schedule so I'm not sure if there'll be time to do another blogpost before I'm flying home, but we'll see.
I'm also hoping to post some reviews by Sharon and Lis soon.
Wish us a good time. :) See Ya Later Gator!
~